Jennifer Choo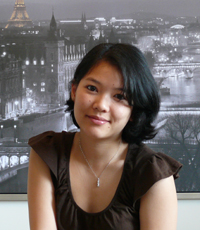 Ph.D. Student
B.Sc. Biotechnology Hon. (UBC 2009)
Jennifer joined the lab in May 2009. Having just graduated from UBC with B.Sc. in Biotechnology (Hon.), she is a Ph.D. student of Dr. Torsten Nielsen in the Department of Pathology and Laboratory Medicine, UBC.
Research Interests
Recent studies examining the relationship between clinicopathologic features and breast cancer subtype illustrate that biological classification of breast tumors has both prognostic and predictive value. Of particular relevance to Jennifer's thesis work, the basal-like subtype portends significantly more aggressive disease and worse survival. Moreover, unlike other forms of breast cancer, no molecularly-targeted therapies exist for treatment of patients with basal-like breast tumors.
At the moment, subtypes are currently assigned based on a gene expression profile gold standard. In efforts to reduce costs and facilitate implementation of subtyping into clinical practice, immunohistochemical analysis can be used. However, the best of available immunopanels only defines basal-like tumors with 76% sensitivity (but 100% specificity). Due to its non-optimal sensitivity for basal-like breast cancers, the clinical utility of the assay is limited. To address this issue, Jennifer is using various approaches, including gene expression profiling, to identify potential basal-like biomarkers that are then evaluated for their diagnostic and predictive value using a tissue microarray format. Statistical model-building techniques will then be used to develop the best possible immunopanel, and its subsequent application to clinical trial tissue microarrays can confirm which treatments work best for basal-like and other major subtypes of breast cancer. Additionally, by being able to more accurately identify basal-like breast cancers, this assay would improve design of clinical trials to develop targeted treatments for this particularly aggressive disease. Ultimately, the objective of Jennifer's thesis work is to develop a practical and clinically-accessible test that will allow more personalized treatment options for the thousands of women afflicted by breast cancer every year, avoiding unnecessary side effects while giving each patient the best chance of cure.