What's TMA?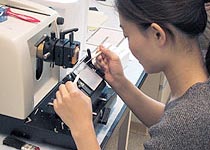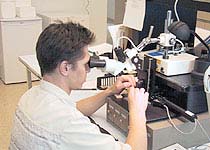 Tissue microarrays are a recently developed technology, which allow the assessment of hundreds of tissue cores on a single glass slide by immunohistochemistry, fluorescence in situ hybridization (FISH) or RNA in situ hybridization (1-3). Tissue arrays comprising 0.6mm cores from the selected blocks will be constructed using a Beecher Intstruments Micro Tissue Arrayer as previously described (4). Four micron thick sections will be cut from completed array blocks and transferred to silanized glass slides. Representative sections from these arrays will be stained with haematoxylin and eosin, to assess adequacy. Further sections will then be stained with the antibodies of interest, using a Ventana automated immunohistochemical stainer. This technology greatly increases the efficiency of tissue based research and dramatically reduces labor and reagent costs. We recently completed an inter-laboratory comparison of immunohistochemical staining for estrogen receptor protein and found that the results of staining two 0.6mm cores were the same as staining whole sections of tumor in 96% of cases (4). Similar studies (4-6) further support that intra-tumoral heterogeneity should not be a major impediment to the use of tissue arrays in research.
The presence intratumoral hypoxia, as measured with the Eppendorf pO2 histograph, is a highly significant prognostic indicator in patients with cervical carcinoma. We propose to stain the tissue arrays described above with antibodies against proteins expressed in response to tissue hypoxia, specifically HIF (hypoxia inducible factor)-1, CA (carbonic anhydrase)-9 and the heat shock proteins HSP-27 and HSP-70. While HIF-1 has been reported to be an indicator of adverse prognosis in a small series of patients with cervical carcinoma (7), the other markers have not previously been investigated in cervical carcinoma.
References:
Kononen J, Bubendorf L, Kallioniemi A et al. Tissue microarray for high-throughput molecular profiling of tumor specimens. Nat Med. 1998;4(7):844-7.
Kallioniemi OP, Wagner U, Kononen J, et al. Tissue microarray technology for high-throughput molecular profiling of cancer. Hum Mol Genet. 2001:10(7):657-662.
Moch H, Kononen J, Kallioniemi O-P, et al. Tissue microarrays: what will they bring to molecular and anatomic pathology? Adv Anat Path. 2001;8(1):14-20.
Parker R, Cupples J, Lesack D, Grant D, Huntsman D, Gilks CB. "Assessment of inter observer variation in the immunohistochemical determination of estrogen receptor status using a breast cancer tissue microarray". Am J Clin Path, in press.
Camp RL, Charette LA, Rimm, DL. Validation of tissue microarray technology in breast carcinoma. Lab Invest. 2000; 80(12):1943-1949.
Nocito A, Bubendorf NA, Maria TE, et al. Microarrays of bladder cancer tissue are highly representative of proliferative index and histological grade. J Pathol. 2001;194(3):349-357.